Coastline Reports 20 (2012)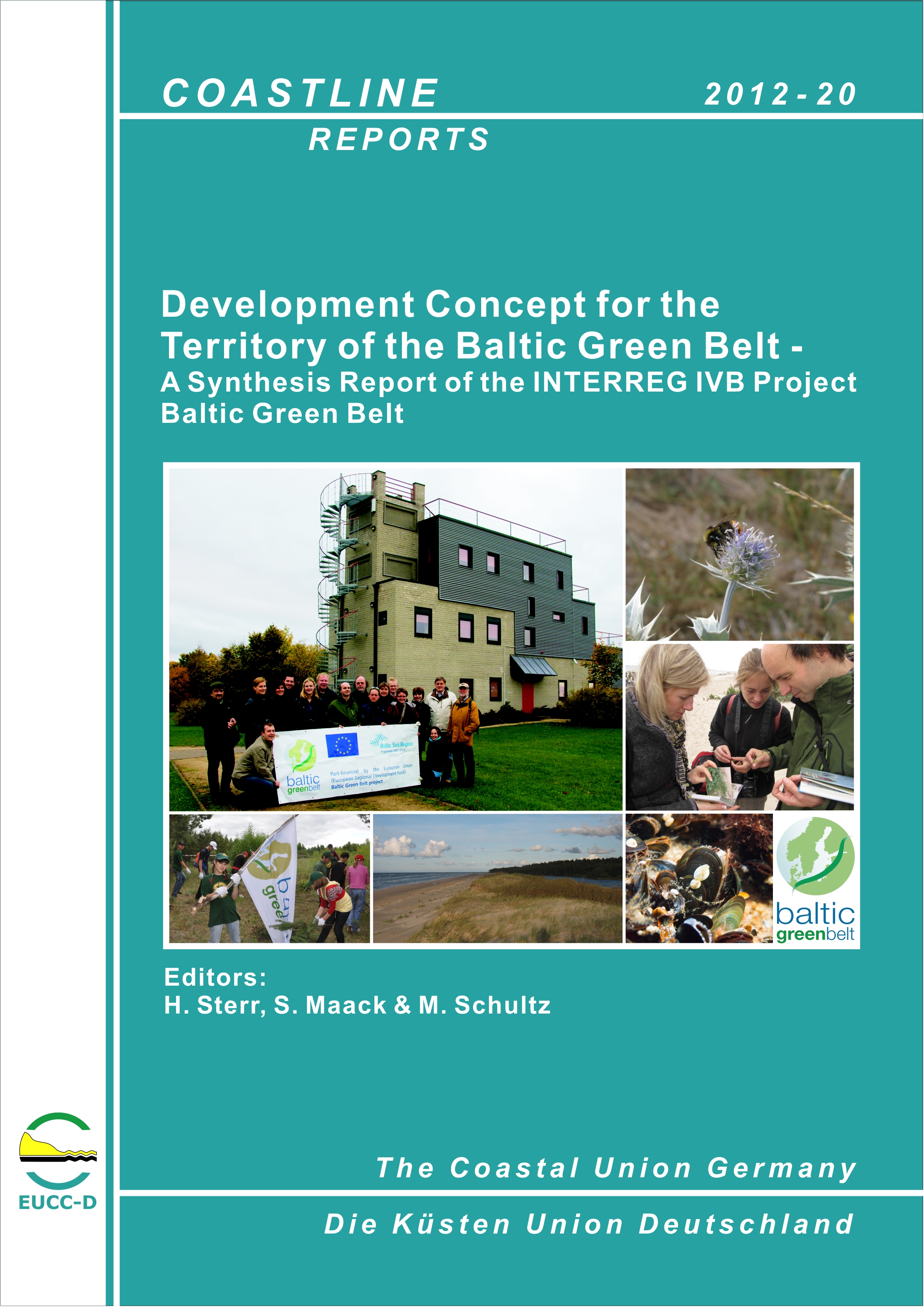 H. Sterr, S. Maack & M. Schultz (eds.): Development Concept for the Territory of the Baltic Green Belt - A Synthesis Report of the INTERREG IVB Project Baltic Green Belt
After the regime changes in the early 1990s the line of the Iron Curtain was transformed into a Green Belt, a nature conservation zone, through Europe from the Barents to the Black Sea. Until recently this European Green Belt had a significant gap – the stretch along the Baltic Coast. Thus, it seemed obvious that this gap ought to be closed and a Baltic Green Belt needed to be established and linked to the neighbouring Belts so as to create a Pan-European Green Belt system.
The primary objectives of the Baltic Green Belt project were:
The report is in English. For ordering Coastline Reports 20 (2012) (25 Euro including postage, 15 Euro for members of EUCC Germany) please send an e-mail with your addresses for delivery and invoice to: eucc@eucc-d.de. The complete report can be downloaded as an Acrobat PDF-File (see below).
Der Band ist in englischer Sprache verfasst. Der Coastline Reports 20 (2012) kann für 25 Euro (15 Euro für Mitglieder von EUCC Deutschland) inklusive Porto bestellt werden: eucc@eucc-d.de. Bitte geben Sie die Liefer- und Rechnungsadresse an. Der gesamte Band kann hier als Acrobat-PDF-File heruntergeladen werden:
H. Sterr, S. Maack & M. Schultz (eds.): Development Concept for the Territory of the Baltic Green Belt - A Synthesis Report of the INTERREG IVB Project Baltic Green Belt, Coastline Reports 20 (2012), ISSN 0928-2734, ISBN 978-3-939206-05-7
(PDF 12MB)
Furthermore, all papers are available as a separate download:
Alle Beiträge können nachfolgend zudem einzeln als PDF-Files heruntergeladen werden: