Coastline Reports 22 (2014)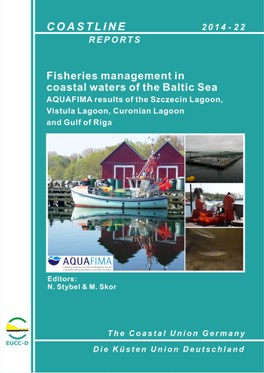 N. Stybel & M. Skor (eds.): Fisheries management in coastal waters of the Baltic Sea - AQUAFIMA results of the Szczecin Lagoon, Vistula Lagoon, Curonian Lagoon and Gulf of Riga
Since fisheries management and control often have not been effective in the past, alternative approaches using linkages between fishery and aquaculture can help to identify and develop new management options for the sustainable coastal fisheries management in the Baltic Sea Region (BSR).
Stocking and restocking activities and mussel cultivation are examples of an ecosystem-friendly approach to maintain natural stocks and their sustainable use.

Based on four cross-border case study areas the current status of an area-based fisheries management in coastal waters of the BSR have been analysed and lessons learned have been compiled.
The case study analyses contain the following steps: data compilation of fish populations, stocking activities and aquaculture, analyses of legal fishery rules, responsibilities and cross-border cooperation, as well as SWOT analyses of the current cross-border fisheries management. The results show that information and cross-border cooperation have to be improved as a basis for common fisheries management structures and agreements.
The content of this edition of the Coastline Reports was developed in the framework of the project AQUAFIMA, which aims to integrate aquaculture and coastal fisheries management towards a sustainable regional development in the Baltic Sea Region.
The report is in English. You can order this report as a hard copy. The price is € 25 for non-members and € 15 for members: if you are interested, please write us at eucc[@]eucc-d.de. The complete report can be downloaded as an Acrobat PDF-File (see below).
N. Stybel & M. Skor (eds.): Fisheries management in coastal waters of the Baltic Sea - AQUAFIMA results of the Szczecin Lagoon, Vistula Lagoon, Curonian Lagoon and Gulf of Riga, Coastline Reports 22 (2014), ISSN 0928-2734, ISBN 978-3-939206-09-5
Furthermore, all papers are available as a separate download:
Alle Beiträge können nachfolgend zudem einzeln als PDF-Files heruntergeladen werden:
Stybel, N., Kleißler, K., Schulz, N., Gruszka, P..Fisheries management in the Szczecin Lagoon. In: Stybel, N. & Skor, M. (eds.). Fisheries management in coastal waters of the Baltic Sea - AQUAFIMA results of the Szczecin Lagoon, Vistula Lagoon, Curonian Lagoon and Gulf of Riga. Coastline Reports (22), pp. 1-24. EUCC - The Coastal Union Germany, Rostock, 2014. [Abstract], [PDF, 1.6 MB]

Smietana, P., Shibaev, S., Kozlowska, A., Skorupski, J.. Fisheries management in the Vistula Lagoon. In: Stybel, N. & Skor, M. (eds.). Fisheries management in coastal waters of the Baltic Sea - AQUAFIMA results of the Szczecin Lagoon, Vistula Lagoon, Curonian Lagoon and Gulf of Riga. Coastline Reports (22), pp. 25-46. EUCC - The Coastal Union Germany, Rostock, 2014. [Abstract], [PDF, 1.4 MB]

Zolubas, T., Kontautas, A., Shibaev, S.. Fisheries management in the Curonian Lagoon. In: Stybel, N. & Skor, M. (eds.). Fisheries management in coastal waters of the Baltic Sea - AQUAFIMA results of the Szczecin Lagoon, Vistula Lagoon, Curonian Lagoon and Gulf of Riga. Coastline Reports (22), pp. 47-69. EUCC - The Coastal Union Germany, Rostock, 2014. [Abstract], [PDF, 1.3 MB]

Kornilovs, G., Medne, R., Timoefejevs, A., Jelisejevs, D.. Fisheries management in the Gulf of Riga. In: Stybel, N. & Skor, M. (eds.). Fisheries management in coastal waters of the Baltic Sea - AQUAFIMA results of the Szczecin Lagoon, Vistula Lagoon, Curonian Lagoon and Gulf of Riga. Coastline Reports (22), pp. 25-46. EUCC - The Coastal Union Germany, Rostock, 2014. [Abstract], [PDF, 1.9 MB]