Coastline Reports 8 (2007)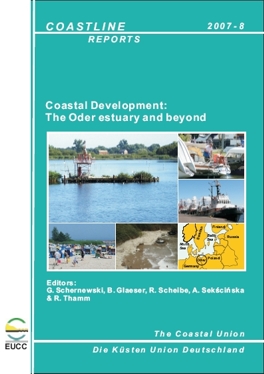 G. Schernewski, B. Glaeser, R. Scheibe, A. Sekscinska & R. Thamm (eds.): Coastal development: The Oder estuary and beyond
Der Band vereint die Tagungsbeiträge der 2. Deutsch-Polnischen-Küstendialoge in Misdroy, Polen, vom 20.-21. März 2007 mit einer Zusammenschau der Ergebnisse des Projektes IKZM-Oder nach über 3 Jahren Laufzeit und einer erweiterten Sicht auf den Stand der derzeitigen Entwicklungen an den Küsten in der Ost- und Nordsee.
Der Coastline Reports 8 (2007) kann für 25 Euro (15 Euro für Mitglieder von EUCC Deutschland) inklusive Porto bestellt werden: eucc@eucc-d.de. Bitte geben Sie die Liefer- und Rechnungsadresse an.
This report reflects the content of the second German-Polish Coastal Dialogue conference, 21-22 March 2007 in Międzyzdroje, Poland, carried out within the research project ICZM-Oder. In the report, you will find results not only from the ICZM-Oder project but also other ICZM-related projects with a geographical focus on the Baltic and North Seas.
For ordering Coastline Reports 8 (25 Euro including postage, 15 Euro for members of EUCC Germany) please send an E-Mail with your addresses for delivery and invoice to: eucc@eucc-d.de

Der gesamte Band kann als Acrobat-PDF-File heruntergeladen werden.
The complete report can be downloaded as an Acrobat PDF-file:
G. Schernewski, B. Glaeser, R. Scheibe, A. Sekścińska & R. Thamm (eds.): Coastal Development: The Oder estuary and beyond, Coastline Reports 8 (2007), ISSN 0928-2734. ISBN 978-3-9811839-0-0. (PDF-file, 21,1 Mb)
Alle Beiträge können nachfolgend zudem einzeln als PDF-Files heruntergeladen werden (Furthermore, all papers are available as a separate download):